UPIK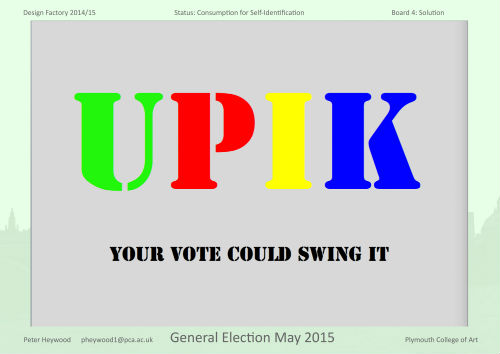 This is my "solution" for a competition staged by the Design Museum that calls for an intervention to make people change their minds about something.

As the competition will be judged in the run up to the general election, I decided to target people that are disenchanted with the political system and aren't planning on voting.

The graphic aims to grab people's attention by appearing to promote UKIP at first glance.

On closer scrutiny, however, it does no such thing.The twist in the title, the use of other political parties' colours, and a reference to the BBC's "Swingometer" aims to encourage people to vote for whatever party by pointing out that they could tip the balance in a likely hung parliament –they could be king-makers.

The intervention is created by turning the graphic into graffiti in a place where it will get noticed by lots of people.

Here's the one in the college canteen:
| | |
| --- | --- |
| | I laser-cut a stencil and then used "liquid chalk" aerosol paint to apply it direct to the wall. The liquid chalk is so that I can wash it off at a later date |

Plymouth City Council has given me permission to do some much larger versions of this on hoardings in Plymouth.


| | |
| --- | --- |
| | I've now created an 8ft by 4ft stencil, cutting it out pf 3.5-mm-thick plywood on the college CNC machine. |
| | |
| --- | --- |
| | I've now completed one copy of the graffiti on some hoardings in central Plymouth. I'm running a little competition on Facebook, asking people to name where it is |


I had to submit 4 design boards for the competition. The final one is at the top of this page. Here's the other 3, shrunk from A3 size:

The first one analyses the dress worn by Margaret Thatcher when she was elected leader of the Conservative Party, which was one of the exhibits in the Design Museum's "Women, Fashion Power" show.

I used a faint background of the Houses of Parliament to create a common theme of politics on all 4 design boards.



The other boards focus on the development of my intervention. This identifies the target user and how I want to change their views.

I split the page into a "before" and "after" to make this as clear as possible.

The third board documents the design development.

I decided to continue the concept of splitting the page, in this case to focus on the 3 phases - coming up with the idea, refining the design and then turning the graphic into an intervention.