I made this on Day 15 of 30/30.
The exploder (the thing you push to detonate explosives) was a good idea - in concept and in the way I made it. Bamboo is a great material!

I wasn't so happy with the legs made of bamboo. Too thin. Also, I had to keep the feet at a funny angle to get the socks to blow off. And getting both socks to blow off was tricky.

The other issue is that it's not continuous, as is usual with automata; you blow the socks off and that's it - all over in a split second.
I went back and revised this: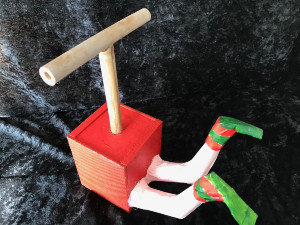 I fattened the legs up with card, made some socks with heels and painted the exploder. I decided to eliminate the feet in the socks - couldn't get the socks to blow off with them on. Also, I took a slow motion video of the socks being blown off: