I tried to make a caterpillar automaton but ran into some problems and decided to submit what I'd done so far as work in progress.
Day 28: Write a review of one of your previous works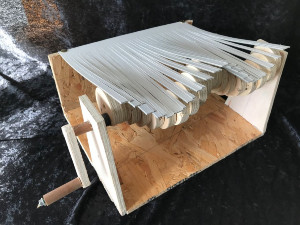 Title: Moving Wave
I "reviewed" my progress on yesterday's caterpillar automaton and decided metamorphosis was in order - I'd hit some technical snags and the caterpillar idea itself wasn't particularly innovative. So I reused parts of it to make this moving wave. Quite pleased with the use of sheet of cardboard to enable me to keep all 40 "fingers" aligned.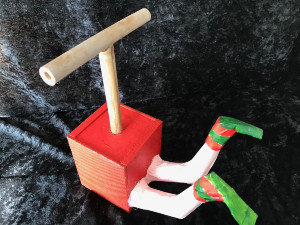 Title: Blow Your Socks Off (Revised)
I also "reviewed" my "Blow Your Socks Off" automaton submitted on Day 15 of 30/30. "Reviewed" - I fitted fatter legs, made of card, over the thin bamboo ones, I changed the socks so they were foot shaped, and I took a slow motion video of the socks being blown off because that only last a split second. I couldn't get over the issue of the feet stopping the socks coming off, so this is now "Blow your socks (and feet) off".
Day 29: Make a commitment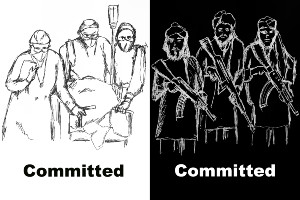 Title: Committed
I almost wimped out on creating this image because I wasn't sure my drawing skills were up to the task. Then I realised that the brief was calling on me to be brave.

Not too happy with the proportions of the left hand nurse's arm - spent the evening wishing I hadn't been in such a hurry to submit it - but I'm pleased with the overall idea.
Day 30: Try making that work you've been wanting to make over the past month and never got round to making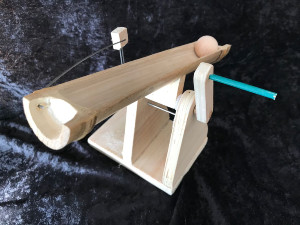 Title: On a Roll
I've been toying with making an automaton whose eyes follow a ball rolling to and fro in front of it - inspired by a piece called "Thinking" by Robert Race, an artist I like - he makes simple automata, often using found objects.

Got the ball rolling today - the eyes will have to come later.